Date added: 19 December 2013
The Train Robbery Before The Great Train Robbery...
... in Swindon, of course. And they say if it works here, it'll work anywhere....
It's 50 years since the Great Train Robbery. Possibly the most famous heist of the 20th century.
On 8th August 1963, a gang of criminals led by Bruce Reynolds stole £2.6 million pounds (equivalent to £40 million today) after stopping a Royal Mail train near Aylesbury.
A well-known true story that's been dramatised this week on BBC1.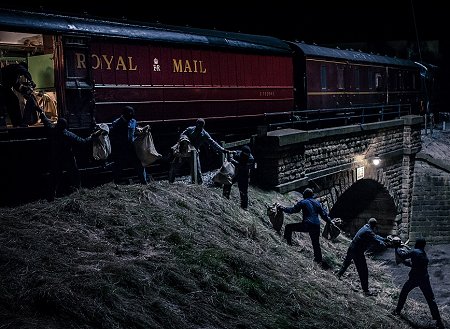 But where did Bruce Reynolds and his gang - that included Ronnie Biggs and Buster Edwards - do a train robbery just three months before what they called 'the big one'?
After successfully stealing £62,000 at Heathrow in November 1962, Reynolds describes in his 1995 book 'The Autobiography of a Thief' that he was attracted to a 'job in Swindon' four months later.
And in March 1963 they then stole £700 from a Royal Mail train right here in Swindon, an amount, however, Reynolds - then nicknamed 'Napolean' amongst his criminal peers at the time - considered an abject failure because the loot turned out to be cheques not cash.
A trial run perhaps?
It was indeed 'small change' compared to the millions in used notes he and the gang would net after he masterminded and carried out the Great Train Robbery later on that summer, the largest and most famous robbery of its time.
Reynolds was eventually captured and jailed for 30 years for the crime in 1968 after five years on the run. He was released in 1978 and died in February this year.
Ronnie Biggs, his very famous accomplice, died this week.