Date added: 05 March 2014
More Self Help For Swindon Zambia Project
Big Yellow & STFC Football in the Community renew partnership for 7th year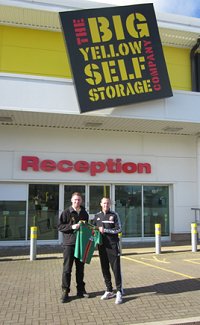 James Finnis of Big Yellow (l)
Big Yellow Self Storage and Swindon Town Football In The Community are pleased to announce the renewal of their partnership now entering its 7
th
successive year.
The two working together is primarily based around the ongoing Zambia project, with Big Yellow providing free space for kit donations and other equipment vital to the project.
James Finnis, Assistant Manager of Big Yellow said, "This partnership is very important to Big Yellow because it is a local community project and it clearly makes a real difference.
"The guys at FITC give so much of their time for local projects as well as Zambia, and we appreciate the opportunity to be involved."
Jon Holloway, Football in the Community Trust Manager said "We are delighted to once again receive this support from Big Yellow. It enables us to collect and store donations to pass on to the incredibly appreciative communities in Zambia, where we have forged strong links through our past visits and distributing all the kit, boots and equipment is an integral part of our trip.
"We would encourage as many people to donate to this worthwhile appeal as possible."
Donations can be made direct to the Big Yellow Self Storage, Drakes Way, Swindon.
Big Yellow Self-Storage Swindon
Drakes Way
Tel: 01793 529 888