Date added: 30 June 2014
A New Beginning for Sanford House
Historic building begins a new lease of life as the Swindon Advice and Support Centre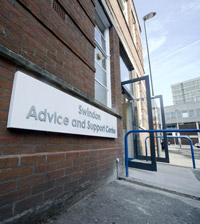 The Swindon Advice & Support
One of Swindon's most historic buildings has been transformed to provide a crucial community service.
Sanford House, in Swindon town centre, has been designed to help local people in most need.
The centre will see a number of organisations who specialise in providing information, advice and support come together under one roof in an easily accessible location for residents.

The transformation of the building began last year, supported by an investment of £350k funded jointly from Swindon Borough Council and the Swindon Clinical Commissioning Group.
Voluntary organisations have worked as part of a project team to lead on the design and development of the centre to ensure it provides the best possible environment for their clients.
Swindon Advice and Support Centre Opens
30 June 2014

Cllr Brian Mattock, Swindon Borough Council Deputy Leader, said: "This is a great example of the council working in new and different ways to support residents. We have made use of a historic building and developed a facility in partnership with the voluntary sector which works well for all of the agencies and, most importantly, for the people those agencies support."
Organisations, such as the Citizens Advice Bureau and the Swindon Advocacy Movement, are among those already operating from the 130-year-old building.
The overall office space will be managed by Voluntary Action Swindon (VAS), which thinks the centre is a huge improvement and people will benefit from having a range of services in one place.

David Wray, VAS Chief Executive Officer, said: "They will be able to walk in, explain the help they need, and see the right people as quickly as possible. In the past people would have to go to lots of different locations depending on the help they needed and now Sanford House offers a centrally located hub of information and support in an up-to-date facility."
The following organisations are already operating from the centre:
- Swindon Citizens Advice Bureau
- Derventio Housing Trust
- Developing Health & Independence Swindon
- Swindon Advocacy Movement

The following four are set to moving in over the next few weeks:
Claire Newport, Chief Executive of Swindon and District Citizens Advice Bureau believes that the centre will provide an invaluable service.

She said: "Having up-to-date facilities makes it so much easier to work with and support the people who come to see us. While the different organisations in the centre have our own specialisms and identities, our common purpose is to help people which is why it is so beneficial to be working together in the same place to signpost and support people effectively."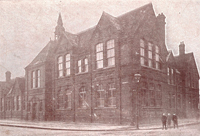 Sanford School first opened
Alongside the physical opening of a building, people can also access a wealth of information online thanks to a new website (see link below).
The website is designed to provide comprehensive information and a directory of services for people with adult health and wellbeing needs.