Date added: 19 July 2014
A Food & Family Celebration
Home-produced organic lamb now on the menu at The Royal Oak at Bishopstone
Put the two popular (often over used) phrases:
'..... sourcing local ingredients wherever possible'
and
'family business'
together and there's one dining pub in Swindon that can genuinely claim to do both.
The Royal Oak in Bishopstone is the Michelin-rated pub run by Helen Browning Organic, who produce award-winning pork, beef & veal on their Eastbrook farm just a stone's throw away.
And this week there was cause for a very special celebration when Helen's daughter, Sophie, and her husband Dai, reached the point where their first crop of organic lambs reared at Eastbrook were ready to be added to the pub menu.
After a year of hard work and investment - both Sophie & Dai have full-time jobs -
Wednesday 16 July saw
40 paying paying guests enjoy a three-course selection of fresh Romney lamb prepared by the Royal Oak's team of chefs.
A variety of dishes including kofta and crougette starters were followed by mains such as burgers, a slow-cooked lamb salad, braised neck tagine and a medley of loin cutlets and chops.
Adding to the pub's locally-sourced credentials included menu choices such as Lechlade crayfish, Westmill Organic Garden vegetables, Berkeley Farm butter & cream and Laverstoke buffalo milk ice cream desserts to finish.
"It's been a very proud evening for everyone," Tim Finney, who runs the pub alongside Helen Browning, told us.
"We believe wholeheartedly in the principle of producing reasonably priced food in a humane and sustainable way. And to have Eastbrook lamb now on the menu and part of what this pub offers makes it all extra special."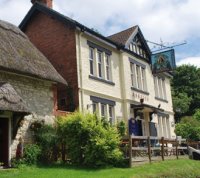 The Royal Oak in Bishopstone

Prince Charles even popped in for lunch the following day, we hear.
Just add the 'Royal' in Royal Oak as something the pub can genuinely claim too.
Eastbrook Farm lamb is also available to buy to eat at home, with delivery or collection at the pub.
For further details please visit The Royal Oak in Bishopstone website via the link at the bottom of the page.
Go Organic in Swindon!
It's Organic September! Here are the best places to source home-grown organic food & eat out organic in Swindon...

Eating Out Guide
Italian restaurant in Swindon? Chinese, perhaps? A quick bite at lunch-time? Or Sunday lunch? FULL GUIDE