Date added: 07 August 2014
Waste NOT, Want NOT!
Residents protest at plans to dump Averies' fire waste at Groundwell
These pictures clearly show the people of Penhill aren't happy.
Plans to temporarily store some of the non-hazardous waste from the fire scene at Averies Recycling in Marshgate, which started more than two weeks ago and is still causing a smog and smell in the Stratton area, has led to protests.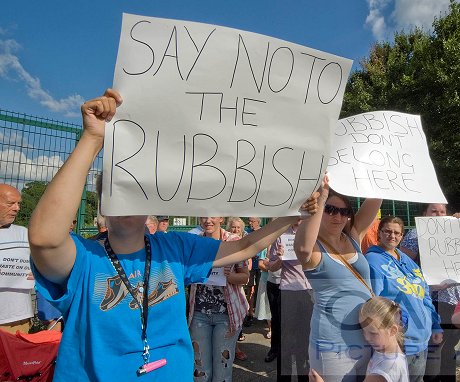 Firefighters are currently struggling to access the heart of the blaze and need part of the Averies site cleared to being able to fully put out the fire faster.
The Swindon Council-owned former Groundwell Park & Ride, in Cricklade Road, has been assessed as suitable and safe to house waste that needs to be moved, with preparatory work already underway so the transferral process can start.
But local residents are against the decision, citing health issues, despite Council assurances that all of the burnt waste will be fully extinguished and checked before being taken to the site, then covered over to minimise any adverse smell.
The waste cannot just be taken to landfill as it would increase the risk of further fires.
And, although fires of this nature would normally be allowed to burn out on a managed basis, likely to last many months, all the agencies dealing with the crisis believe this is not a viable option due to the disruption it is causing for local Marshgate businesses and residents.
The debate will continue at a specially arranged meeting open to all concerned residents at St Peterís Church Hall, Penhill, at 7pm on Friday 08 August.
Honda Fire
Production resumes after weekend blaze...

25 January 2016

Swindon College on Fire
Students evacuated after blaze started in plumbing & gas workshops - PICTURES

19 January 2016