A Fitting Toast
Arkell's launch Old Contemptible ale to mark

Great War Anniversary

-

WATCH VIDEO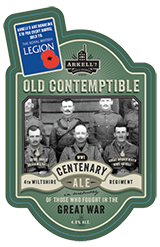 Old Contemptible
As part of the 100th Anniversary of World War 1, Arkell's Brewery in Swindon today launched a brand new commemorative beer for the Royal British Legion.
Named "Old Contemptible", the beer uses an old Arkell's recipe using British ingredients and would have been the kind of traditional beer appreciated by soldiers in 1914.
The pump clip features a picture of the late Sir Noel Arkell and Graham Arkell who took part in The Great War as part of the 4th Wiltshire Yeomanry.
£10.00 per cask sold donated to the Poppy appeal
The name 'Old Contemptibles' was self-adopted by British troops belonging to the regular army in 1914, and was supposedly derived from a comment made by the German Kaiser Willhelm II, who upon hearing that German forces were being held up in France en route to the French capital is said to have exclaimed his exasperation of "Sir John French's contemptible little army".
WATCH VIDEO: Arkell's Brewery Launch Old Contemptible Beer
Speaking shortly ahead of the launch, Head Brewer Alex Arkell commented "At 4.0% this is considered strong for a mild, however having looked through our records and doing some research we noticed that before WW1 our mild was stronger. Then the government wanted people to drink less because of their work in the munitions factories so they forced breweries to reduce the alcohol!"


The Swindon Festival of Remembrance
The WW1 commemorations continue in November with The Royal British Legion's annual Festival of Remembrance concert at The Wyvern Theatre, taking place on Sunday 02 November.
Featuring the Military Wives Choir and the Wessex Male Choir, tickets are available now, priced at £10.00 and available to book via the Wyvern Theatre website link below.
Fancy A Pint, Chris?
Arkell's latest ginger-inspired ale is on its way to Mr Evans - WATCH VIDEO

20 April 2015

Arkell's Launch New Academy
Swindon brewery teams up with Swindon College to offer key hospitality training to the local area...

13 January 2015

Festival of Remembrance
The annual concert organised by Swindon Royal British Legion to remember all those who have fought for their country - 02 NOVEMBER