Date added: 28 October 2014
Flying Over Coate
New Wiltshire Air Ambulance takes to the skies over Swindon - SEE PICS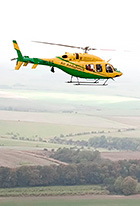 New Air Ambulance
soars over Wiltshire
Special thanks to Richard Wintle at Calyx Picture Agency for sending over these great shots of Wiltshire Air Ambulance's new state-of-the art helicopter in action.
The Bell 429 helicopter is the world's newest and most advanced light twin-engine helicopter in service, and is the first of its type to operate as an air ambulance in the UK.


Incorporating yellow and the distinctive Wiltshire 'green', the helicopter will cost around £2.5 million a year to operate and commences full time operations from January 1st next year.


But that didn't stop a quick trip 'around the block' as it took in sights across the county including Silbury Hill near Avebury, All Canning's Church, Devizes, and our very own Coate Water - before returning to land at The Great Western Hospital in Swindon.
They've Done It!
Rory Bremner joins in the celebration as Brighter Futures reaches £2.9 million target for new cancer centre - WATCH VIDEO

26 January 2019

The Incredibles!
300 local superheroes join forces for Brighter Futures radiotherapy campaign - SEE PICTURES

Top Of The Crops!
Swindon crop circle raising thousands for GWH scanner appeal - VISITOR DETAILS

07 August 2015

A Step Towards A Brighter Future
Radiotherapy treatment in Swindon inches closer following landmark decision by Oxford University Hospitals NHS Trust...

09 July 2015

Turning Back The Clock!
Volunteers at Lydiard Park take a step back in time in support of Brighter Futures' #TheTimeIsNow campaign - SEE PICS

23 June 2015

The Time Is Now!
Balloons take flight as campaign to bring vital cancer treatment closer to home is launched in Swindon - WATCH VIDEO

28 May 2015

Treatment Closer to Home
New Mobile Chemotherapy Unit is launched at The Great Western Hospital - SEE PICS

01 October 2014