Date added: 16 December 2014
Let There Be Light!
It's Christmas in Swindon and two neighbouring houses in Cricklade are quite literally lighting the way!


SWTV: Lighting the way in Cricklade


I'm sure you needn't be reminded that we're now just a matter of days away from the big day.
Do you have your decorations up yet?
SwindonWeb recently embarked on a quest to find some of the best lit houses in the area, and we think we might have found ourselves a Christmas cracker with these two neighbouring houses in Cricklade!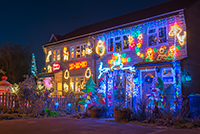 Number 6 & 7 Fairfield, Cricklade
Alison Clarke at Number 7 Fairfield has been decorating her house with increasingly lavish decorations for nearly fifteen years, and when Kim Poole moved in next door at Number 6 she couldn't help but get involved too!
Between them they have hundreds of lights and 8 festive inflatables (with the largest standing a whopping 10 feet tall!) But the Christmas extravangance doesn't stop there - it continues inside too!
Housed within Number 7 is a snow village complete with the Polar Express train, almost 100 Christmas teddy bears, more 80's ceiling decorations than you can wave a big stick at and various musical Santa's in a variety of poses!

So did they have any advice for anyone wanting to put up some festive lights this year? "Don't do it with your husband!" joked Alison. "We did nearly get divorced doing it together this year!"

Our thanks to Ali and Kim for showing us around, and on behalf of everybody here at SwindonWeb...
We wish you all a very Merry Christmas!
Pictures by Damien Davis, Cricklade
Union J Light Up Swindon!
Boy band - minus Jungle George - flick the switch in the town centre - VIDEO & PHOTOS

20 November 2015