Date added: 30 January 2015
Milestone Birthdays
It's a very special January for one family in Swindon, with three generations celebrating landmark birthdays - 80, 50 & 21!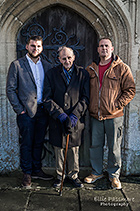 Left to right: Joe Sawyer

Arthur Sawyer, and
It's always difficult choosing the right present for a 21st, 50th or 80th birthday, so we don't envy friends of the Sawyer family, who this month celebrated all three!
Graham Sawyer celebrated his 50th on the 9th January, his dad, Arthur Sawyer celebrated his 80th birthday on the 22nd January, and Joe Sawyer completed the birthday festivities with his 21st birthday on the 24th January.
And what better way to mark this rather unique occasion than with a picture at St John the Baptist Church in Hannington, a place that holds fond memories for all three.
Arthur married his late wife Gill there back in 1957, Graham married his wife Debbie at the church in 1988 and 21-year old Joe was christened there!