Swindon Works 175th Anniversary
The Marriott Swindon Hotel is exploring the history of Swindon's famous railway works
The coming of God's Wonderful Railway, otherwise known as the Great Western Railway (GWR), transformed Swindon from a quiet market town to the largest town in Wiltshire.
Linking the south-west, west of England and most of Wales with London, this railway system was founded in 1833, and was regarded as the most advanced railway system in the world.
Swindon was chosen by the Victorian engineer Isambard Kingdom Brunel and his assistant Daniel Gooch in 1840
as the location for the engine building and maintenance works, with the workshop officially opening three years later.
And now, The Marriott Swindon Hotel is exploring the history of Swindon's extensive GWR works to mark this 175th anniversary.
It was primarily a centre for maintenance and repair works, but the depot had several uses. It contained a Running Shed, where trains could be on standby, ready to be changed over with incoming locomotives. Offices were also contained in the works, with admin and general organisation being in full force.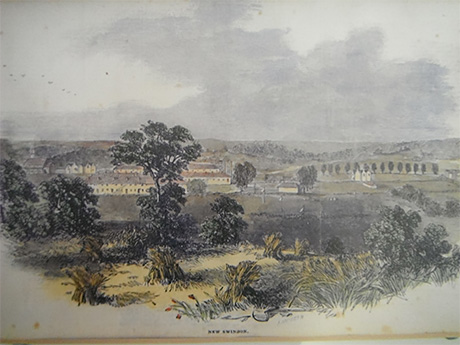 The view of what is now Swindon town centre 175 years ago when the decision was made to site the GWR Works at Swindon, which then grew at a remarkable rate, as seen below in 1849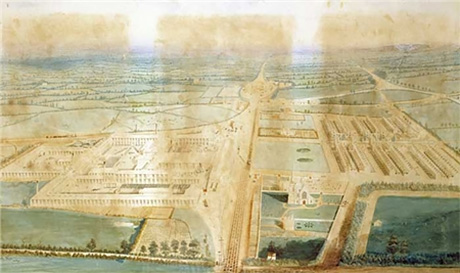 Over the course of the next century, the depot continued to develop.
By the 1930s, the workforce had expanded to around 14,000 employees, many of which were women. The works themselves covered more than 300 acres, and were able to build three locomotives a week.
Swindon was a small settlement, so as work demands grew, more workers moved to the area from the rest of the country.
A planned village was created to house these workers and their families, with the new streets being named after the destinations of passing trains. When the works began building actual locomotives from 1846 onwards, both the workforce and Swindon grew.
Educational and medical facilities were brought to the area, as well as shops, a church and a public house. The Swindon Mechanic's Institute was also built – a building paid for by Great Western Railway workers. It contained health services as well as the UK's first lending library. When it was expanded in the 1890s, it was opened to other local workers.
Many of the buildings in the railway village – some listed – can still be seen today, after their demolition was campaigned against in the 1960s.

In 1948, the nationalisation of the rail transport system took place.
This meant that the 'Big Four' - the Great Western Railway (GWR), the London, Midland and Scottish Railway (LMS), the London and North Eastern Railway (LNER) and the Southern Railway (SR) – were joined together as British Railways, consequently leading to the decline of the railway works.
Building and quarrying had become important industries in the area though, and so the closing of the works – although unfortunate – was not too detrimental.
The rich history of the railway in Swindon is still very much alive at STEAM - Museum of The Great Western Railway, where a Wall of Names honours the thousands of men and women who made the works so successful.
Visitors to the museum can climb inside locomotives, speak to knowledgeable former railway workers, discover what it's like to change the signals and be an engine driver and learn all about the life of IK Brunel.
A great day out in Swindon
There are over 105 stores integrated within the ornate surroundings, and there's even a steam locomotive on display in the food court!
Rest in luxury at the recently refurbished
Swindon Marriott Hotel
before exploring this area of Swindon. It's the ideal spot for a fulfilling day out, particularly if you're looking to experience the town's friendly atmosphere.
Harry Potter
Happy anniversary Harry! Here's #Swindon's connection to the boy wizard 20 years on from the day Harry Potter and the Philosopher's Stone was first published...

It's Swindon, Ma'am!
QUEEN ELIZABETH II: In her amazing 70 years on the throne, here's the 4 occasions Her Majesty officially stopped off in Swindon...

Adver Towers Shelved!
UPDATE: Apology & plans withdrawn after public outcry over Old Town development proposal - HAVE YOUR SAY

12 March 2016

First Class!
Deacon's Jewellers creates Limited Edition GWR pocket watch - WATCH VIDEO

Tony Benn in Swindon
Labour stalwart campaigned against closure of the British Rail Works in 1985...

16 March 2014

Bravery Recognised
Proud evening as Swindon soldiers are awarded Operational Service Medals for Afganistan Tour - WATCH VIDEO

12 March 2014

The Age of the Tram
Remembering the days when trams travelled the streets of Swindon - WATCH VIDEO

UTC Building
We explore how the iconic college will look...

15 July 2013

Radnor Street Remembrance
Swindon honours its war graves at much-neglected cemetry - GALLERY + PICS FROM OTHER REMEMBRANCE DAY CEREMONIES

11 November 2012

Strictly Poppies
Come Dancing stars perform at the opening of Remembrance Field at Lydiard Park - GALLERY

09 November 2012

Swindon Railway Festival 2012
Join Pete Waterman and show sponsors Hornby Magazine for the ultimate display of GWR railway layouts - 14 & 15 SEPT

15 September 2012

On time for a brew!
Brunel complained about the coffee in Swindon but we're sure he'd have liked the new cafe at STEAM...

01 May 2012

It's Time To Celebrate, Ma'am
STEAM museum and Deacon's launch special GWR pocket watch to mark the Queen's Jubilee year - WATCH VIDEO...

11 April 2012

Final Ride of Respect
Thousands of bikes turn out for last Mother's Day parade through Royal Wootton Bassett - GALLERY...

Wootton Bassett Rocks!
Local people unite to make charity single & video for military charities - GET INVOLVED - VIDEO FILMING THIS SUNDAY...

15 September 2011

Everyone A Hero
ARCHIVE: Wootton Bassett honours Lieutenant Daniel John Clack - the final repatriation...

18 August 2011

The Final Repat?
Emotional farewell in Wootton Bassett for Marine James Wright...

11 August 2011

Doing Time Inside
A new book chronicles apprenticeships and training in GWR's Swindon Works...

31 July 2011

GWR Flower Display
Roundabout message for train travellers and motorists - visit STEAM this summer...

19 July 2011

Ride of Respect
10,000 bikers ride through Wootton Bassett to show appreciation for fallen soldiers...

04 April 2011

A Mother Mourns
Emotional repatriation at Royal Wootton Bassett...

30 March 2011

Royal Tribute
Prince Harry opens Remembrance Field at Lydiard Park...

09 November 2010

GWR 175th celebration
STEAM plans year-long programme of events to mark landmark anniversary...

04 January 2010

Starring Role
Evening Star returns to Swindon for Railway Festival...

The Railway Works
Celebrating Swindon175. A short introduction to the world's finest railway works. Founded this week in 1841....

Sir Daniel Gooch
Bust & beer unveiled to celebrate the Father of the Swindon Works - BORN 200 YEARS AGO TODAY

Joseph Armstrong
One of the greatest figures in Swindon's history. Born on this day 200 years ago...

Life in a Railway Village
We explore what life is like living in the Swindon Railway Village 160 years after it was first built by the GWR....