Date added: 18 March 2015
You're Going To Need A Hoperation!
Arkell's new beer may not cure your ailments, but it'll certainly help you to forget them! - WATCH VIDEO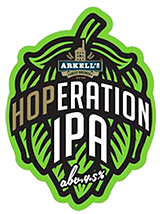 Available throughout
Hoperation IPA is the Swindon brewery's latest seasonal ale and at a healthy 4.5% abv, it will certainly blow the cobwebs away.

Head Brewer Alex Arkell, has brewed Hoperation as an Indian Pale Ale (IPA), a beer style characterised by the use of high levels of hops, which enables the beer to stay fresh for longer because of the extra hop acids: the more hops in the recipe, the longer the beer will last.
IPA got its name from British India and other outposts of the British Empire during the 19th Century.

Alex said: "IPA has had a recent surge in popularity and is now the most popular style of craft beer in the world. For Hoperation IPA, we've blended English and American Hops to create a powerful hop flavour in this Pale Ale with oats and wheat in the grist to provide a smooth rounded finish."

Hoperation IPA will be available at all Arkell's participating pubs throughout the months of March and April 2015.
with Head Brewer Alex Arkell
Fancy A Pint, Chris?
Arkell's latest ginger-inspired ale is on its way to Mr Evans - WATCH VIDEO

20 April 2015

Arkell's Launch New Academy
Swindon brewery teams up with Swindon College to offer key hospitality training to the local area...

13 January 2015

A Festive Tipple!
Tis' the season to be jolly, and what better way to kick-off the festive celebrations than with a glass or two of Arkell's Noel Ale - WIN A CASE

A Fitting Toast
Arkell's launch Old Contemptible Ale to mark Great War Anniversary - WATCH VIDEO