Date added: 25 March 2015
Undeserved & Unjust
Just two of the reasons we're supporting the petition to allow Jacky Collyer to stay in Swindon
If you've visited the Darkroom Espresso coffee shop in Faringdon Road recently you'll know it's a new business really making a go of it in Swindon town centre.
Only eight months old and up against the big brand chains, it's already getting a name as 'the place' to go for meeting friends and socialising during the day, as well as enjoying a fabulous cup of coffee and a bite to eat.
It's also run by a young married couple working unbelievably hard to make it work.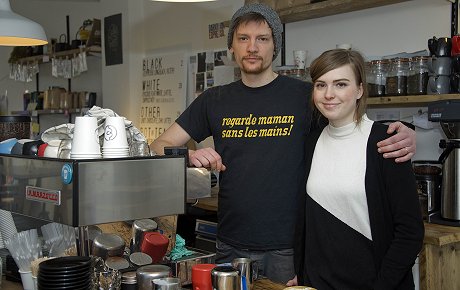 Adam Carter & Jacky Collyer
Joint-owner Jacky Collyer, originally from Australia, who started the business with her husband Andy Carter last summer, faces closing it and moving abroad to prevent being separated by a Home Office ruling that means she cannot live in the UK anymore.
According to immigration rules for non-EU citizens, she must leave the country because she or her husband do not earn the minimum £18,600 to qualify for residency - or have had £16,000 worth of savings in the bank for the last 6 months.
Jacky now has 14 days to leave the country
and go back to Melbourne, Australia - or move to Germany or France, where no such rule applies.
Andy has the choice of staying here without his wife, going Down Under or moving abroad too.
And despite appeals, the Home Office are refusing to budge - citing the fact that their rules are meant to protect the taxpayer from immigrants that claim benefits and drain the system.
But with Jacky working, contributing, paying taxes and clearly paying her way, how can the decision to force her to leave her husband, close family, friends and growing business be the correct one?
That's why here at SwindonWeb, we urge you to sign the petition via the link below asking the Home Office to reconsider once again and allow Jacky to stay.
We're Open
New weekly event at Darkroom Espresso welcomes those seeking refuge in Swindon - EVERY THURSDAY

09 August 2017