Date added: 28 May 2015
The Time Is Now!
Balloons take flight as campaign to bring vital cancer treatment closer to home is launched in Swindon
A release of nearly 300 coloured balloons kicked off a £2.9 million fundraising appeal to bring radiotherapy treatment to the Great Western Hospital in Swindon yesterday.
The appeal by Brighter Futures, Great Western Hospitals NHS Foundation Trust's charity, will fund two linear accelerators, which will deliver the treatment provided by Oxford University Hospitals Trust (OUH) in a new radiotherapy centre.

Currently around 3,000 people are diagnosed with some form of cancer each year at GWH. In 2013/14 around 700 patients made the 70 mile round-trip to OUH's Churchill Hospital in Oxford for radiotherapy. Treatment usually lasts for four to seven weeks, made up of daily visits.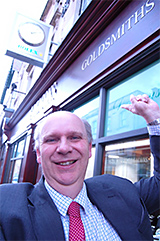 Richard Deacon of
Deacons Jewellers adds
his support to the campaign
While the expansion of the OUH service is subject to a final approval process, the planning stages are well advanced and it is envisaged that treatment could be available locally by the end of 2017.

Dr Guy Rooney, Medical Director, Great Western Hospitals NHS Foundation Trust, said: "Bringing radiotherapy treatment to Swindon will make such a difference to local patients and their families, friends and carers and will be an excellent addition to the facilities already available at GWH.

We are working closely with our colleagues at Oxford to make this vision a reality and I am sure that local people will get behind the fundraising appeal."
Fundraising events planned
Jen Green, Head of Fundraising, Great Western Hospitals NHS Foundation Trust, commented: "Over the next two years there will be lots of ways to get involved including different events. I am sure participants will also come up with wild and wacky ways of generating money for this worthy appeal."
They've Done It!
Rory Bremner joins in the celebration as Brighter Futures reaches £2.9 million target for new cancer centre - WATCH VIDEO

26 January 2019

The Incredibles!
300 local superheroes join forces for Brighter Futures radiotherapy campaign - SEE PICTURES

Top Of The Crops!
Swindon crop circle raising thousands for GWH scanner appeal - VISITOR DETAILS

07 August 2015

A Step Towards A Brighter Future
Radiotherapy treatment in Swindon inches closer following landmark decision by Oxford University Hospitals NHS Trust...

09 July 2015

Turning Back The Clock!
Volunteers at Lydiard Park take a step back in time in support of Brighter Futures' #TheTimeIsNow campaign - SEE PICS

23 June 2015

Flying Over Coate
New Wiltshire Air Ambulance takes to the skies over Swindon - SEE PICS

28 October 2014

Treatment Closer to Home
New Mobile Chemotherapy Unit is launched at The Great Western Hospital - SEE PICS

01 October 2014