Date added: 10 July 2015
Remembering One Of The Few
Swindon set to honour Squadron Leader Harold Starr with Battle of Britain 75th anniversary fly-past - SEE PICS
Swindon Heritage, in association with Paul R Gentleman Associates and Green Rook, today unveiled plans which will see Swindon take a leading role in events marking the 75
th
anniversary of the Battle of Britain this September.
The town will witness a spectacular flypast by the Spitfires and Hurricanes of the Battle of Britain Memorial Flight (BBMF) on Battle of Britain Day itself (September 15).
In a unique formation it will honour the 544 pilots of RAF Fighter Command who were killed in the battle, including our very own Battle of Britain hero.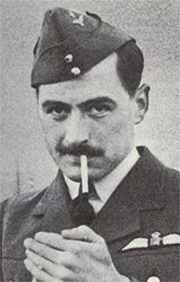 Buried in Swindon:

Squadron Leader Harold Starr was born in Swindon in 1914 and rose to be the leader of 253 Squadron, but was tragically killed at the height of the Battle of Britain.
Bailing out after his plane was hit at 15,000 feet in the skies over Kent, he was then machine gunned to death as he descended in his parachute when three Bf 109s came back for him.
The BBMF will fly directly over Harold's grave in Radnor Street Cemetery in a moving tribute as the culmination of a week of events called "Swindon Remembers".
Swindon Heritage editor Graham Carter said:
"The flypast would be a tremendous honour at any time, but on the very day that the country is marking the 75th anniversary of the Battle of Britain it becomes even more special.
"As soon as we told the BBMF about Harold's story and the tribute we wanted to give him they were very keen to support our event."
The Battle of Britain was arguably the most significant single victory in the Second World War since it averted the invasion that seemed inevitable after the disastrous defeat at Dunkirk in the spring of 1940. With the Luftwaffe unable to gain air superiority over the Royal Air Force during that summer, Hitler abandoned his invasion plan in October.
Even while the battle still raged, and before Harold Starr was killed on August 31, Winston Churchill immortalised those who took part when he said, "Never in the field of human conflict has so much been owed by so many to so few."
During Swindon Remembers, Harold's story and the town's many aviation connections will be discussed in a series of illustrated talks, along with an exhibition by Swindon artist David Bent, the official artist of the Red Arrows.


Special locomotive naming
First Great Western, the main sponsor of the week's events, will also name a Class 43 locomotive in honour of Harold Starr. General Manager for the Central region, Rob Mullen said: "We are delighted to be able pay our due respects to the heroes of 253 Squadron and RAF Fighter Command, and we're proud to be naming one of our High Speed Trains in honour of Harold. It is important as a country that we commemorate this anniversary, and remember those who bravely gave so much."
Caroline Black, who is managing the project said: "
First Great Western's support has been absolutely fantastic and we've also secured support from the Orbital Shopping Centre, AMCS Limited, InSwindon and The Brunel Swindon along with the assistance of the Steam Museum and Swindon Borough Council
".
Full-size replica Hurricanes and Spitfires will also be on display in the town centre on Saturday 12 September, along with other Second World War-themed attractions, while a family event will be held at Radnor Street Cemetery on Sunday 13 September.
Deputy Centre Manager at Orbital, Jamie Turner said "
We are immensely proud to support this event to honour Squadron Leader Harold Starr and the hundreds of others who made the ultimate sacrifice during the Battle of Britain, and are delighted to be involved in bringing the model Spitfire and Hurricane to Swindon for everyone to enjoy."
Meanwhile, five local primary schools – Goddard Park, King William Street, Lethbridge, Robert Le Kyng and St Mary's – are all busy working on designs for windows in the Radnor Street cemetery chapel, which will be unveiled in September. There will even be a commemorative beer from the Flying Monk Brewery and 'Harold Starr Sausages' made by Wilsons Family Butchers of Old Town.
The Swindon Heritage team have tracked down some of the surviving relatives who will be travelling to Swindon in September, some from as far away as Paris. It will also include Harold's nephew who will be returning to Radnor Street cemetery for the first time since Harold's funeral in 1940.
"

Swindon Remembers is an open invitation to everybody in the town to join in and help us remember 'The Few',
said Graham Carter.
"We can, of course, never pay our debt to them, but it's a chance to pay our respects and celebrate their courage during the flypast on September 15, and also during all the other events in the week leading up to it."


Swindon's Tribute To The Few
Royalty to be guest of honour at special Swindon Battle of Britain flypast on 15 September - WATCH VIDEO

19 August 2015

70 Years On
Crowds gather in Swindon to mark the 70th anniversary of VJ Day - SEE PICTURES

17 August 2015

D-DAY
79th ANNIVERSARY: Watch our films showing how Swindon played its part on the 6th June 1944 - WATCH VIDEOS