Date added: 05 September 2015
Tie A Yellow Ribbon!....
Kids joy at new 2-year-olds room at Highworth Pre-School
Children were jumping for joy at the opening of a new special extension to Highworth Pre-School.
The Yellow Room has been designed especially for 2-year-olds and made possible by grants from Swindon Borough Council, Highworth Lions Club and the Thomas Freke & Lady Norton charity.
The conversion from office space to a bright, inspiring and stimulating environment took place over the summer, and will now accommodate up to 12 children for seven sessions during the week.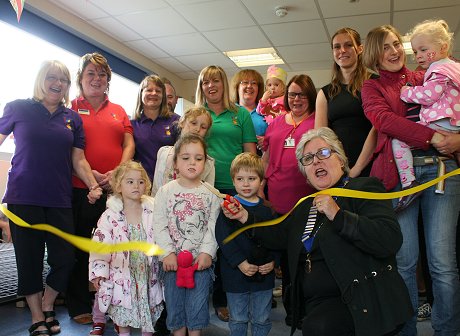 Highworth Lions President Debra Brown, staff, parents and children enjoy the moment as they officially open the new Yellow Room at Highworth Pre-School
"This is a wonderful addition to our facilities here at Highworth Pre-School," said manager Helen Simpson, "we all can't thank everyone who's helped make this happen enough."
The celebration day also included plenty of activities in the other school rooms, fun and games, a bouncy castle and a raffle featuring prizes donated by local businesses.