Date added: 26 October 2015
Remembering Edith
Swindon pays tribute to our very own suffragette hero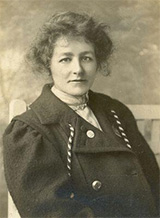 If you were out for a casual walk in Swindon over the weekend, you'd have been forgiven for thinking you'd taken a step back in time to the early twentieth century.
That's because dozens of women in period dress were showing their support for the suffragrette movement, and in particular, Swindon's very own suffragette - Edith New.
In 1908, Edith New and fellow suffragette Olivia Smith chained themselves to the railings of 10 Downing Street shouting "Votes for Women!" before then breaking windows. The punishment for which was two months hard labour in Holloway prison.
The story of the suffragettes has gained increased publicity in recent weeks with the release of the Hollywood film, Suffragette, starring Carey Mulligan, Helena Bonham Carter (who plays a character based on Edith) and Meryl Streep.
In celebration, a group organised by Swindon Heritage and keen historian Frances Bevan started at the entrance to The Lawns at 11.00am before marching through Wood Street in Old Town and on to Radnor Street Cemetery.
You can view a few pictures below. As ever, our thanks to Richard Wintle from Calyx Picture Agency for sending these over.
In cinemas now