Date added: 16 November 2015
A Festive Tipple!
Christmas comes early for the Pear Tree at Purton with the arrival of its very own fine wines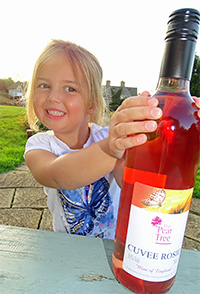 Rosie Ockwell with a bottle of
Guests at one of Wiltshire's leading family run hotels The Pear Tree, Purton can enjoy a glass of wine from its own vineyard this Christmas.
For several years, Anne Young who owns the 17-bedroom hotel and fine food restaurant, has tended a vineyard in the grounds.
Two good harvests in the last couple of years has meant, for the first time, their own brands – Cuvee Anne (white sparkling) and Cuvee Alix (white) have been made completely from their own grapes.
The team recently took delivery of 500 bottles which will be sold exclusively to guests enjoying the fine dining.
Also being launched this month is Cuvee Rosie – a rose named after Alix Young's god daughter Rosie Ockwell. Rosie lives in Purton and her mum Katie is Alix's best friend.
Alix said: "We're thrilled with how the grapes have yielded such a large amount of wine to strengthen our own brand. Looking after the vineyard – of about 600 vines – is a big task so we're thrilled with the outcome."
This year's harvest has just taken place with more than 20 people from Purton turning out in the rain to pick the grapes. They've now been sent off to provide wine for next year's hotel and restaurant guests.
Eating Out Guide
Italian restaurant in Swindon? Chinese, perhaps? A quick bite at lunch-time? Or Sunday lunch? FULL GUIDE

The Perfect Pimms!
How to make the classic summer drink with Alix from The Pear Tree at Purton - WATCH VIDEO