Date added: 25 November 2015
Avoid Bruce St Bridges TODAY (and the next 2 weeks probably)
TRAFFIC: Major disruption expected as new junction is completed
Motorists are being urged to avoid Bruce Street Bridges after the morning rush-hour today (25 November) as the final surfacing of the junction continues to take place.
Contractors are planing the carriageway on the east and westbound approaches to the busy junction after 9.30am so the current surface can be removed to make way for the new road surface.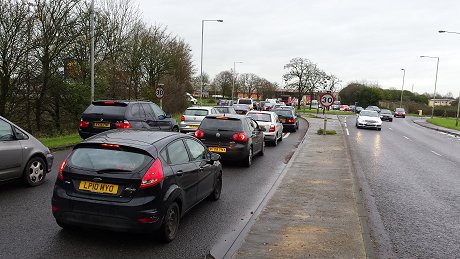 the approach to the Bruce Street junction from West Swindon
However, due to the nature of the work, traffic flow will be extensively restricted and drivers are being advised to only use the junction if it is absolutely necessary in order to avoid being caught in tailbacks.
The carriageway will, however, be open to two lanes for the evening peak periods where possible. Signs have been placed warning motorists of increased congestion in the area, while residents and businesses have been informed.
The surfacing works started on Monday (23 Nov) and are expected to last for two weeks, subject to weather conditions.
Drivers should seek alternative routes if possible during this time as the work has already caused long queues of traffic. Once the surfacing is complete, the junction will be substantially finished with the finishes touches being made early in the new year.
Work to resurface Kemble Drive has been postponed until the end of January to ease congestion around the Designer Outlet Village during the Christmas and New Year period.
For further information and the latest information on the work being carried out on the town's roads as well as live traffic updates visit the Swindon Borough Council roadworks website via the link below.
Rodbourne Road Roadworks
Bus lanes now open to help motorists & local trade as pedestrians follow in the footsteps old GWR workers - NOW REOPENED

26 April 2016

Bruce Almighty!
TALKING POINT: It's the new 'roundabout' we've waited months for but is it a disaster zone or great traffic control? HAVE YOUR SAY

09 March 2016

Water Taxi Required!
But it's too late for this cab driver (and passengers?), as floods on Queens Drive cause traffic chaos - PICTURES

07 February 2016

Mini Bow Wave!
It pays to be in a 4x4 at Bruce Street Bridges today...

29 July 2013