Date added: 01 January 2016
New Year's Day Birthday Baby Boy!
Mum born 01-01-84 at 8.30am; Son born 01-01-16 at 8.26am!
There was a double celebration on new year's day at GWH for Jackie O'Brien - a baby and a birthday!
The Swindon mum gave birth to 6lb 7oz Sebastian this morning at 8.26am, almost exactly to the minute when she was born at 8.30am 32 years before.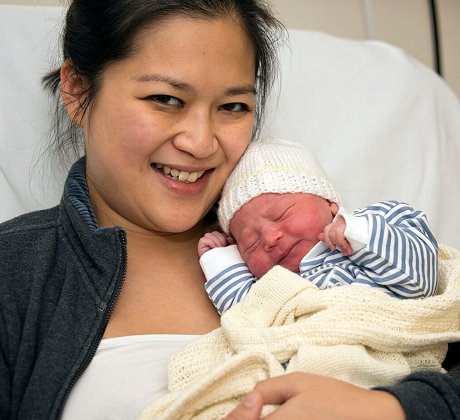 What a start to the year:
Jackie O'Brien with son Sebastian, born on her birthday
Sebastian arrived two weeks early with both mum and baby bright and healthy.
The birthday boy was one of a host of babies born on new year's day at the Great Western - two of them twins!
Thanks to Richard Wintle at Calyx for these pictures of joy.