Date added: 22 February 2016
Swindon MP Still Undecided On EU Referendum Vote
Buckland says OUT; Bojo says IN. But what say you Justin Tomlinson?
The country will go to the Polls on 23 June 2016 to decide whether the UK remains part of the European Union.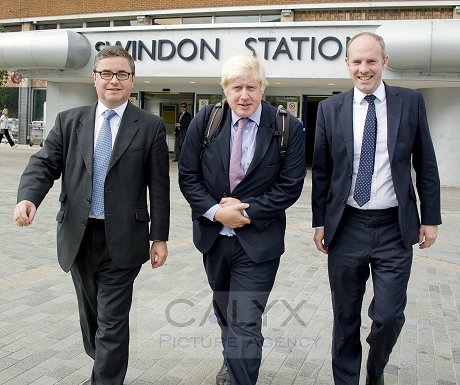 Robert Buckland (l) & Justin Tomlinson greet Boris Johnson during a visit to Swindon in 2014
And straightaway Swindon MP Robert Buckland has sided with the Prime Minister and pledged his allegiance to support those who want to stay in the EU.
On the other side, London Mayor Boris Johnson leads those who say it's time to leave.
So what of Justin Tomlinson, MP for North Swindon & Minister for Disabled People?
He's so far undecided.
With his boss at the Department of Work & Pensions, Ian Duncan Smith, staunchly siding with BoJo, it looks like a being a tough decision!
Swindon Votes OUT!
EU REFERENDUM: MPs split as Town sets the national trend in groundbreaking LEAVE result.....

24 June 2016

Do EU Fancy A Pint?
Pub outside polling station leaves voters with a tricky decision... IN or OUT?!

23 June 2016

Swindon Election 2015
Both Conservative MPs re-elected with increased majorities + ELECTION NIGHT LIVE

08 May 2015

Election Q&A
The Royal Oak Bishopstone hosts a Q&A with the party political candidates - 17 APRIL

No Time For Tapas
ONE MONTH TO GO: Miliband is back in Swindon - and this time it's at Los Gatos - SWTV GRAB A WORD

07 April 2015

Election Countdown
VIDEO: Harriet Harman's pink battle bus rolls in to town to support local Labour candidate's fight for Swindon children's centres - WATCH INTERVIEW

05 March 2015

Nick Clegg in Swindon
Deputy Prime Minister stops by to sign £129 million growth deal - WATCH VIDEO

18 December 2014

BoJo in Swindon
Boris Johnson joins local MPs at Nationwide (oh yes, Obama due in today!) - GALLERY

02 September 2014

Election Time 2010
Final day - still unsure? Take a final look at our guide to see videos, history and more...