Win A Free Wheel Alignment!
With Save On Tyres. Get your car sorted after a winter of bumping over Swindon roundabouts
With the roads in and around Swindon proving a constant challenge of late, it can be easier than you'd think for a wheel to be knocked out of alignment.
Even the smallest of potholes on a road or constant running over roundabouts can lead to a problem, which can result in poor handling, premature wear on the tyres or even an increase in fuel consumption.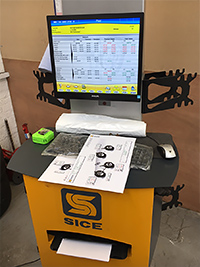 That's why we've teamed up with our good friends at Save On Tyres to offer one lucky SwindonWeb reader a fantastic prize - a thorough 4-wheel alignment which will adjust the angles of your car wheels to meet the manufacturer's correct specification!
Save on Tyres are a family-run business that's been established in Swindon for over 20 years.
With a newly-expanded workshop situated just 2 mins walk from Designer Outlet Village on the Station Industrial Estate, the staff at Save On Tyres are fully qualified and provide a complete and trusted service.
Win A 4-Wheel Alignment at Save On Tyres!
We've teamed up with Save On Tyres to offer a FREE 4-wheel computerised alignment test worth a minimum of £50 to 1 lucky winner. Just answer the following question:
Q: Which of these is NOT a famous car brand?
a. BMW
b. Toyota
c. Kawasaki