Date added: 04 May 2016
Help Team Jess!
Mum of two Jessica Kill seeks life saving operation in the US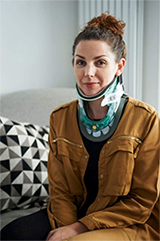 A 38-year-old mother is on a quest to raise £150,000 for a life saving operation in the United States.
Jessica Kill, formerly from North Swindon, who has two young sons, was diagnosed with Ehlers Danlos Syndrome (EDS) in 2014 which, if left untreated can lead to complete paralysis.
EDS is a genetic condition that effects the collagen tissues within the body, causing joints to dislocate, cardiac abnormalities, stomach issues or nervous system malfunction that effects heart rate, blood pressure, digestion and more.
After initially managing to remain independent following her diagnosis, Jess is now no longer able to work due to a related condition called Crainocervical Instability and Chiari, a cruel where the ligaments in the neck are too stretched and weakened to support the head.
Now living in constant pain, the only option for Jess is to travel to the US for specialist Cranial Fusion and Chairi Decompression surgery, an operation that only a very select number of surgeons in the world are able to perform.
"Travelling to the US for this surgery is now my only hope," commented Jess.
"I have been advised that surgery is needed within the next 3 to 4 months to prevent irreparable damage to my brain stem. It will cost at least £150k. The NHS will only fund for treatment within the EU, so Iím on my own in terms of funding for this life saving operation."
If you're able to help Jess reach her goal, please donate via the YouCaring website via the link below.