Date added: 06 May 2016
Swindon Elections 2016
Two gains for Labour as Tories lose deputy leader and have majority cut on Swindon Borough Council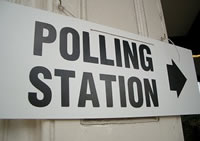 Swindon May Election:
The Conservative Party lost their deputy leader of the Council and a crucial seat in West Swindon on a night the Swindon Labour Party bucked the national trend.
Two Labour gains have reduced the Conservative Partyís majority on Swindon Borough Council from seven to just three.

Of the 19 seats up for election, two changed hands to leave the Conservatives (30) with a majority of three seats over Labour (25) and the Liberal Democrats (2).
Old Town and Lydiard vote Labour

Labourís Jane Milner-Barry (1,363) (pic. below) took the seat formerly held by the Conservativeís deputy leader of the Council Brian Mattock (1,062) in Old Town, while 25-year-old Matthew Courtliff (1,421) (lower pic. below) was responsible for the other Labour gain seeing off the challenge of the Conservativesí Di Rodgers (1,266) in the Lydiard and Freshbrook ward.
It was thought that the uncertain future over Lydiard House and Park was a factor in Labour securing the seat.

The Conservatives held their seats in Blunsdon and Highworth, Covingham & Dorcan, Haydon Wick, Priory Vale, Ridgeway, Shaw, St Andrews, St Margaret & South Marston and Wroughton and Wichelstowe.

As well as taking the two additional seats in Old Town and Lydiard & Freshbrook, Labour held on to their seats in Central, Gorse Hill & Pinehurst, Liden Eldene & Park South, Mannington & Western, Penhill & Upper Stratton, Rodbourne Cheney and Walcot & Park North.
Liberal Democrats post-election headache

The Liberal Democrats continued to connect poorly with the electorate with many candidates beaten by the Green Party but former Mayor Stan Pajak did retain his seat in Eastcott.

The full election results are available on the Swindon Borough Council website.
| | |
| --- | --- |
| Party | No. of councillors |
| Conservative | 30 |
| Labour | 25 |
| Liberal Democrat | 2 |
| Other | 0 |
Angus Macpherson re-elected as PCC for Wiltshire and Swindon
In a tight vote with the Labour candidate, Conservative Angus Macpherson was also re-elected to the role of Police and Crime Commissioner for Wiltshire and Swindon.
The result was announced at 4.40am at the Oasis Leisure Centre following the counting of second preferences after no candidates received more than 50 per cent of first preference votes. Mr Macpherson (56,605) received 45% of the first preference votes.

Mr Macpherson received a total of 68,622 first and second preferences compared to his nearest challenger Labourís Kevin Small who received 39,365 first and second preference votes.
Pictures by Calyx Picture Agency
Swindon General Elections!
They say whichever party wins in Swindon, wins the general election - we look back on results since 1969...

Blue is the Colour!
Swindon Elections 2014: Tories increase majority - WATCH SWTV LIVE BROADCASTS

23 May 2014

Swindon Election Special
Bluh survives Old Town vote as Conservatives hold on to power by just one seat - FULL RESULT

03 May 2012