Date added: 15 June 2016
Remembering Two Of Our Brightest Starrs
Swindon Heritage launches crowd funding campaign to remember two of Swindon's fallen heroes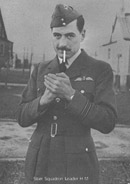 Harold Morley Starr
Swindon Heritage is asking for help to raise £700 to install Blue Plaques at the birth site of two of Swindon's most heroic sons - brothers Harold and Norman Starr who both made the ultimate sacrifice and lost their lives as pilots during World War II.
Squadron Leader Harold Morley Starr bailed out of his burning Hurricane during the Battle of Britain in 1940 but was gunned to death by a Messerschmitt as he floated down to earth, aged just 25.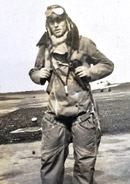 Norman John Starr
Wing Commander Norman John Starr DFC and BAR was 27 was shot down and killed whilst piloting an Avro Anson over Dunkirk in 1945.
Regent Street
The Starr brothers were born and raised in Swindon at the Central Hotel in Regent Street. The site is now occupied by The Savoy public house who have granted permission for the installation thanks to JD Wetherspoon.
If you'd like to contribute towards the commemorative plaques, you can do so via the Crowd Funder website link below.
Swindon's Tribute To The Few
Royalty to be guest of honour at special Swindon Battle of Britain flypast on 15 September - WATCH VIDEO

19 August 2015

70 Years On
Crowds gather in Swindon to mark the 70th anniversary of VJ Day - SEE PICTURES

17 August 2015

Remembering One Of The Few
Swindon set to honour Squadron Leader Harold Starr with Battle of Britain 75th anniversary fly-past - SEE PICS

10 July 2015

D-DAY
79th ANNIVERSARY: Watch our films showing how Swindon played its part on the 6th June 1944 - WATCH VIDEOS