Date added: 25 August 2016
Applause For A Curry King!
Highworth turns out to pay tribute to Indian restaurant owner Rafu Miah
Hundreds of friends and wellwishers turned out in Highworth High Street at lunchtime today to pay tribute to Rafu Miah, owner of Rafu's Restaurant, who sadly died on Sunday.

The crowd spontaneously applauded as the funeral cortege passed by and stopped briefly outside the restaurant for Rafu's son, Omar, to say thank you to everyone who kindly sent messages and love to the family.
A fund has been setup to raise money for a fitting memorial for Rafu. If you would like to donate you can do so via the JustGiving page below.
Applause For A Curry King
25 August 2016
Farewell To The Curry King
Tributes flood in for Indian restaurant owner Rafu Miah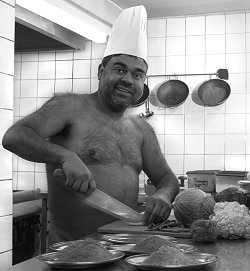 Fundraising for Macmillan:
Rafu, seen here in the famous
Highworth
calendar in 2006 which was
featured
on ITV's This Morning
It was sad news indeed this weekend to hear that much-loved restaurant owner Rafu Miah has died.
The original founder of Biplob and current owner of Rafu's in Highworth and Shrivenham, passed away unexpectedly at GWH following a suspected heart attack on Sunday morning while shopping with his daughter.
The 57-year-old, who moved to Highworth in 1982, was well-known as the 'Curry King' in Swindon having served thousands of customers at his restaurants across town for more than thirty years.
Rafu's generosity with fundraising and donations to local charities and schools was recently recognised by the Highworth Lions Club, who presented him with the Melvyn Jones Award for his kind efforts and community spirit.
Flowers have been placed outside Rafu's in Highworth with hundreds of tributes being paid on Facebook and social media.