Date added: 16 September 2016
Honda Boss Speaks Of Civic Pride In Swindon
New model unveiled as South Marston plant gears up with £200m investment
Any fears of a post-Brexit withdrawal by car giant Honda in Swindon were banished today with an upbeat unveiling of the newest generation Civic.
- new £200 million investment in Swindon factory
- 160,000 yearly production target
- extra 600 taken on to meet demand
The South Marston plant is Honda's flagship production facility in Europe, employing 3,600 people, and plays a key role in Honda's global manufacturing network.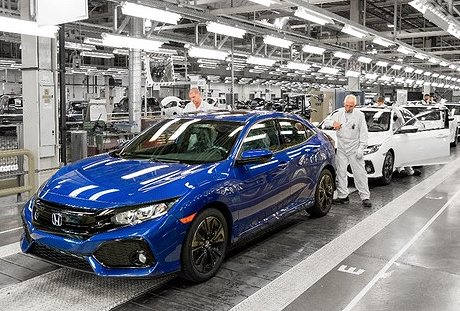 The company has invested a further £200m into the factory in preparation for production of the new model (the 10th generation), bringing Honda's total investment in Swindon to more than £2.2 billion since 1989.
"As we reveal this new Civic, we look forward with confidence as we expand the role of our Swindon manufacturing plant. Honda has made significant investments in this facility and this next step is an important endorsement of the skills and expertise of our workforce," commented
Katsushi Inoue, President and Chief Operating Officer of Honda Motor Europe before adding:
"This was our plan regardless of Brexit, so no change."
Honda of the UK Manufacturing (HUM) in Swindon is the global production hub for the new Civic hatchback with a yearly target of 160,000 to be made, mainly exported to more than 70 countries around the world, including North America and Canada.
Honda Shuts Down
BREAKING: Swindon car production suspended by Coronavirus until at least 06 April - or when 'market and supply conditions' allow....

18 March 2020

Honda Fire
Production resumes after weekend blaze...

25 January 2016

I Predict A R-iot
Kaiser Chiefs frontman Ricky Wilson in Swindon to collect new Honda Civic Type-R - SEE PICTURES

20 August 2015

Honda Task Force
We speak to project leader Jill Annal ahead of the job fair organised for redundant workers...

19 May 2014

Honda Take Stock
340 production workers at Swindon plant face job threat after shift change...

25 March 2014

From Honda to Aston Martin?
Car giants recruit redundant Swindon workers at job fair (with some following Di Canio to Sunderland!)...

29 April 2013

Honda To Cut 800 Jobs
Downturn in EU sales blamed for shock news today - but is it because the new Civic is (hate to say it) plain 'ugly'? - COMMENT

11 January 2013

Honda Launches CR-V
Big boost for Swindon as Business Secretary praises car plant investment...

07 September 2012

Honda Jobs
Honda in Swindon is now recruiting - MORE DETAILS...

20 December 2011

Recovery Starts Here?
New Honda Civic rolls off the production line as 500 new jobs announced...

19 December 2011

Beat the recession
New College host open evening which offers advice on surviving the crunch...

09 March 2009

Asimo
Youngsters enjoy the power of robots at Swindon technology workshop...

Last Hurrah for Civic Type-R
This week saw the last of Honda's legendary and hugely successful Civic Type R's coming off the Swindon production line...

28 September 2005