Date added: 13 December 2016
Ambitious Plans For Town Centre
Vision for a landmark museum and art gallery for Swindon revealed
The ambitious plan to create an iconic £22 million museum and art gallery in Swindon's town centre took a major step forward today, when the partners and stakeholders revealed their developing vision for the project.
The Swindon Museum and Art Gallery (SMAG) Trust recently invited a wide range of architects to submit design concepts for a state-of-the-art structure to house the town's museum and nationally significant collection of British 20th Century modern art, which includes works by Lucian Freud, Henry Moore, L S Lowry and Graham Sutherland.
The brief for architects was to create a landmark destination that would form the centrepiece of Swindon's new cultural quarter, become a significant source of pride and wellbeing for local residents and businesses, and attract visitors to Swindon from the wider region and beyond.
As part of its fund-raising strategy the SMAG Trust will be applying to the Heritage Lottery Fund (HLF) for a grant of around £10 million towards the £22 million project. Make Architects, whose founder Ken Shuttleworth lives in Wiltshire, have been selected to develop the design concepts to submit to the HLF as part of the bid.
Learning centres, event space, viewing gallery and more
Make's proposal, designed with Arup, Steenson Varming and Alinea, presents a cutting edge venue that engages the community with a number of exciting facilities, including learning centres, event spaces, cafe and dining areas, a viewing gallery and a generous public realm.
Alongside these are four flexible independent gallery spaces which will showcase the museum's outstanding British Art and studio ceramics collection, tell the story of Swindon, have an interactive science facility and also host visiting exhibitions.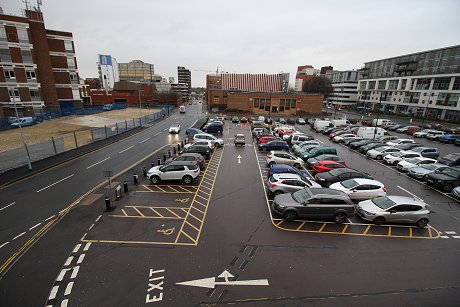 the site of the proposed museum & art gallery
The founder of Make Architects, Ken Shuttleworth, said: "Our team is extremely excited by the immense potential of the site. We believe the development of the space is a fantastic opportunity to create a beautiful cultural destination in the heart of Swindon that safeguards, enhances and celebrates the area's collections, and creates new and engaging public realm that draws and excites visitors. We envisage a world-class building that will become an artefact in itself, an object that symbolises Swindon's past, present and future."
Swindon Borough Council has already pledged £5 million towards the project. Council leader Cllr David Renard said: "Delivering a genuinely world-class new museum and art gallery is one of the Council's pledges and forms an integral part of its plans to breathe new life into the town centre."
The objectives of the £22 million project are:
- To create a major permanent Museum and Art Gallery of the future – a beacon of civic pride, creativity and inclusion. A major new public space that is welcoming.
- To bring the story of Swindon and its heritage to life through the highest-quality museum displays and interactives.
- To create a unique public space dedicated to art, history and science, combining iconic historical artefacts (large and small), interactivity, film and imagery, as well as hosting a seamless integration with a destination cafe/restaurant and retail outlet and supporting services. In short, if you are in Swindon, this is the place you want to be.
- To inspire visitors, building confidence and skills.
- To cherish SMAG's existing visitor and volunteer base and attract a new and broader audience
- both physically and online.
- To aspire to the highest international museum standards in the care, preservation and display of Collections.
- To optimise the opportunities afforded by a new build by achieving high standards of access, design and sustainability while referencing the unique history of the town and its environment.
- To contribute to the delivery of the Swindon's regeneration objectives, particularly engaging with the best design practices and enhancing visitors' experiences through beautiful, appropriate and well-crafted design and by uncovering and driving forward Swindon's hidden but vibrant cultural scene
Swindon Going Downhill?
Too right!!
Great news as £270m ski dome at North Star gets the final go ahead - HAVE YOUR SAY

28 November 2018

It's Swindon, Ma'am!
QUEEN ELIZABETH II: In her amazing 70 years on the throne, here's the 4 occasions Her Majesty officially stopped off in Swindon...

Adver Towers Shelved!
UPDATE: Apology & plans withdrawn after public outcry over Old Town development proposal - HAVE YOUR SAY

12 March 2016

Swindon Pop-Up Museum!
Exhibition shows the past, present & future of Swindon town centre - PICS

01 November 2014

Regenerating Swindon
Take a walk-through the changes happening in Swindon town centre - WATCH VIDEO

07 June 2014

The Biggest Piece of the Jigsaw
Major change on the way for Fleming Way as part of the £350 million pound regeneration of Swindon town centre - WATCH VIDEO

06 March 2014

Ahh, if only....
Jon Ratcliffe imagines what Swindon could be like if we got back our confidence - HAVE YOUR SAY...

10 April 2013

Swindon's New Masterplan
Forward Swindon announce new regeneration plans for Swindon town centre - SWTV

05 September 2012

Hanging Around In Swindon!
It's every crane operator's nightmare - getting stuck 200 feet up on the job! - SEE GALLERY

30 August 2012

Even The Queen Was Invited
A look back at Swindon's last big regeneration project - and what happened when the money ran out...

07 August 2012