Date added: 30 August 2017
Diana in Swindon
We look back on the Princess's visits to town - both official & unofficial
Although Princess Diana only made two
'official'
visits to Swindon during her time as HRH in the 1980s, living nearby in Tetbury did mean Swindon was convenient for two things
'unofficial'
- the train & the cinema.
For over 10 years while still married to Prince Charles, Diana was often seen enjoying films at Cineworld in West Swindon, the closest - and probably most discreet - multiplex to Highgrove. It was popular too with Prince William & Harry when they were teenagers living with their father in the 90s.

In fact, it was Prince William that caused the then Princess of Wales to make her last recorded visit here in June 1991, when she made an 'unofficial' dash to PMH (Princess Margaret Hospital) from London to see her son after he had been accidently hit on the head by a golf club. An injury that later required surgery at Great Ormond Street.
It was the same year Diana was also seen with her boys (then 9 & 6) at the big annual fun fair in Faringdon Road, one of their first 'public' outings together.
But for the lucky people who actually got the chance to see, meet & talk to her during her only two official engagements here, the years 1985 & 1989 will live long in the memory.


The first was on
25 February 1985
, when Her Royal Highness (a title that was controversially removed when she divorced Charles in 1996) visited Cheney Manor to open the Taurus Skills Workshop for young people. See video below.
There she was greeted by hundreds of wellwishers & photographers, who had waited patiently to get a glimpse of her on one of her first official engagements since Prince Harry was born 5 months earlier.
It would then be 4 years until her second and last royal visit on
26 April 1989.
This time is was a mixture of business & pleasure for the 28-year-old Princess, who after opening the Great Western Business Centre in Station Road then moved on to officially open the new Delta Tennis Centre in West Swindon.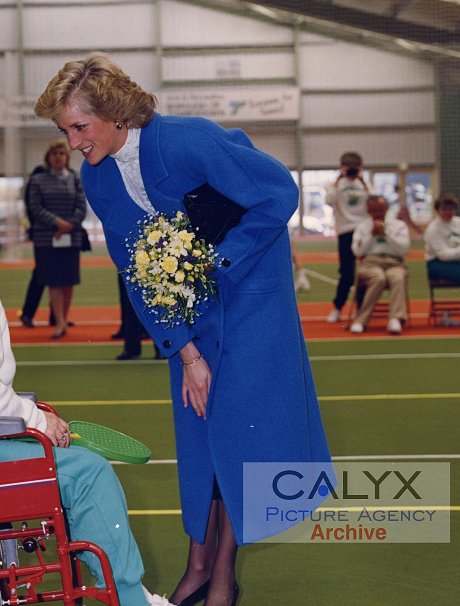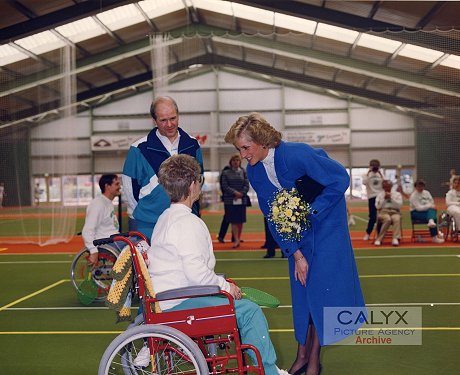 Always a tennis fan and a regular at Wimbledon, Diana overran on her visit after staying on to meet junior players and enjoy tea with members.
Thanks to Richard Wintle and the brilliant Calyx Archive for these pictures.
Prince Philip In Swindon
With the sad news of his passing, we look back at his last visit to Swindon to officially open GWH & meet students at New College in 2003 - PHOTOS

09 April 2021

Ear To The Throne!
Prince George enjoys a day out at the Royal International Air Tattoo - SEE PICTURES

08 July 2016

It's Swindon, Ma'am!
QUEEN ELIZABETH II: In her amazing 70 years on the throne, here's the 4 occasions Her Majesty officially stopped off in Swindon...

Happy Birthday, Chaps!
Prince Charles put the Royal into RIAT as Red Arrows celebrate 50th anniversary at Air Tattoo - VIDEOS & PICS - UPDATED

11 July 2014

Yummy Ma'am-my!
Fancy a memento of the Royal baby being born? Cute mugs now on sale at Deacon's Jewellers...

24 July 2013

The Duchess & Doctor Who!
Royalty opens new charity shop at Uplands School - and takes home Timelord memento - SEE PICTURES

25 April 2013

Strictly Poppies
Come Dancing stars perform at the opening of Remembrance Field at Lydiard Park - GALLERY

09 November 2012

Even The Queen Was Invited
A look back at Swindon's last big regeneration project - and what happened when the money ran out...

07 August 2012

It's Time To Celebrate, Ma'am
STEAM museum and Deacon's launch special GWR pocket watch to mark the Queen's Jubilee year - WATCH VIDEO...

11 April 2012

A Right Royal Treat
Swindon celebrates Royal Wedding with street parties across the town...

29 April 2011

We're Honoured!
Prince William and Kate Middleton to attend pre-wedding charity dinner in Swindon - WIN TICKETS - APRIL FOOL!!...

01 April 2011

Royal Tribute
Prince Harry opens Remembrance Field at Lydiard Park...

09 November 2010