Date added: 14 January 2019
5,000 Thanks!
Gift-wrap stall at The Brunel raises another amazing amount for the Prospect Hospice
Cutting, sticking, wrapping & twirling over Christmas has made a huge difference to the Swindon charity, The Prospect Hospice, once again.
Volunteer gift wrappers at The Brunel Shopping Centre this year raised more than £5,000 over the festive period, bringing the total raised to more than £20,000 in the five years since it started.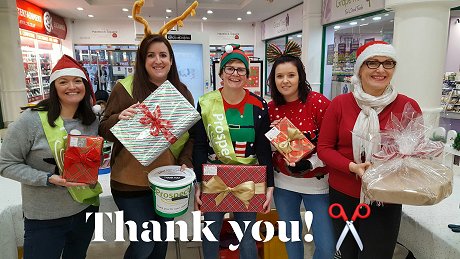 Prospect Hospice volunteers (above) on the gift wrapping stall during Christmas and Hollie Ricketts (below) with Brunel Centre Manager Jane Stewart celebrate breaking the £5k barrier for the first time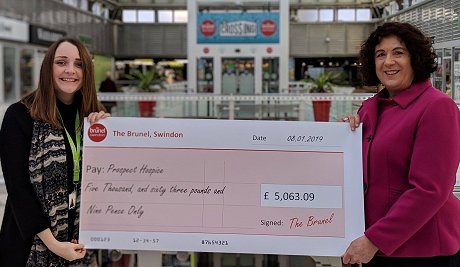 The initiative was started in 2014 and has grown each year since with this year's total up by more than £400 on last year. A second stall was added in The Brunel Arcade for Christmas 2018.
Hollie Ricketts, Community Fundraiser for Prospect Hospice, said: "We are absolutely delighted with the amount raised this year and thrilled that in just five years the stall has raised £21,759.88! We are very grateful to the team at The Brunel who welcome our volunteers and look after us all so well each year and, of course, to all of volunteers who worked so hard wrapping the presents this year. We love putting on this event for the local community.
"I'd also like to sincerely thank everyone who used the gift-wrap service and made a donation. This is an important annual fundraising event for the hospice and every penny raised goes straight into helping to care for our patients and their families."
Jane Stewart, Centre Manager of The Brunel said: "We are delighted that the gift wrap stall idea has grown into something that is raising a significant amount of money for Prospect Hospice.
The Prospect charity is close to the hearts of many of Swindon's residents and we are very proud to continue to support this event and to give our shoppers an opportunity to show their support for their local charity. Breaking through the £20,000 mark is just fabulous!"
Prospect Hospice and The Brunel have confirmed that the gift wrap stall will return again in December 2019. Anyone who would like to volunteer to wrap presents should contact: