Date added: 08 December 2008
Railway Voices
New book records life 'inside' the Swindon GWR Works
This week, a new illustrated book has been published but pulls together interviews and extracts from workers who remember their time from 'inside' Swindon Works.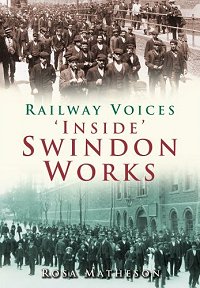 the new book tells of the
good, the bad and the ugly
Collated by Swindon expert Rosa Matheson, whose previous books include TRIP: The Annual Holiday For GWR's Swindon Works, and The Fair Sex: Women and the GWR offices, it recounts experiences from those who worked in the Shops, engineers and tradesmen.
It looks at the differences across each era, the ups and downs of working for GWR, idiosyncrasies of work practices, such as odd names of jobs i.e. 'hotter upper', and the relationships between workers, men and women, workers and management, and Loco and Carriage Works.
"It's packed with memories and reminiscences from so many people who worked for the GWR over the years," commented Rosa, "and I've thoroughly enjoyed writing it.
"It was often joked that the Swindon Works workforce came with GWR stamped on their bottoms! And I've tried to get across the fierce pride so many of them poccessed and their loyalty to the company."
The book covers the era from the late nineteenth century up to 1986, when Swindon Works closed, and is amply illustrated with many unseen previously unpublished photographs.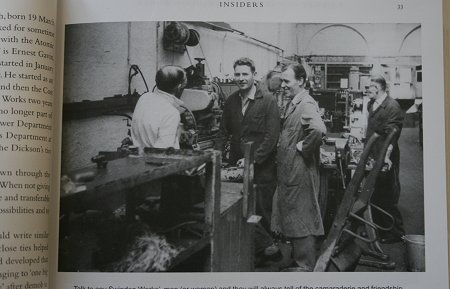 The book tells of the camaraderie and friendship of those who worked at the GWR Swindon Works
Dr Rosa Matheson is Swindon's best-known railway author. A long-time enthusiast of Swindon Works, GWR and women's railway history, she has a large collection of memorabilia and has written a number of books and articles on her pet topics.
Rosa is also active in presenting talks to the community.
The book is now available in all good book shops including the STEAM museum and Swindon Tourist information.
SwindonWeb has a copy of Rosa's new book to give away in a free-to-enter competition. Just answer the simple question below for your chance to win.
What year did the GWR Works close in Swindon?
1. 1986
2. 1996
3. 2006
GWR's Fair Sex
Women's extensive role in the Swindon Works documented for the first time...

20 October 2007