Date added: 22 December 2008
SwindonWeb girls pack a punch in Swindon
We test our fitness at the Boxing Academy in Swindon
With the New Year just around the corner, we here at SwindonWeb thought we'd get ahead of the game and start thinking about getting fit for 2009.
And boy, have we found a great sport!
Just off Faringdon road, you'll find the Swindon Boxing Academy. And trainer Paddy Fitzpatrick, the owner.
Half his time he's teaching Swindon fighting star Jamie Cox the moves that will one day make him a world champion - and the other, he's showing people like me and Liz that boxing is far more than slap, bam, wallop.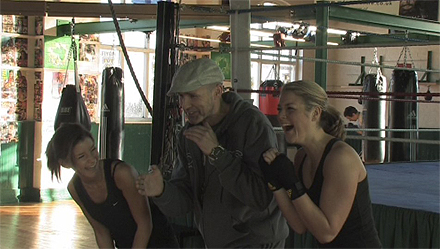 A knock-out way to get fit:
(l to r) Kirsty Heber-Smith, Paddy Fitzpatrick and Liz Ledger
at the Boxing Academy in Swindon
"It's a different way of training. And ideal for men and women," he reassured us when we visited him last week.

"It's not all combat but disciplined movement that really builds up strength and stamina. You girls will love it!"
And, do you know what. He was absolutely right. We did.
We enjoyed an hour of high intensity training different from anything we had tried before. All with Jamie Cox sparring in the background, not that we really noticed with Paddy constantly encouraging us.
From learning about the importance of 'our core', to stance, posture and finally some basic punching technique, Paddy showed us just why boxers are physically so well prepared - and how his gym is gaining such a name from people who want to genuinely get fit and motivated.
"We get all sorts coming in. And they all seem to like the atmosphere more than anything else," added Paddy.
"It beats just exercising in an ordinary gym."
And I think me and Liz would agree.
Full details about the Swindon Boxing Gym and the training involved can be found via the link below.