Date added: 17 December 2008
Sweet FA!
Story update: 18 December 2008 08.55am
Supermarine dump Eastbourne out of the Cup
FA Trophy 1st Round
RESULT: Swindon Supermarine 1 Eastbourne Borough 0
Striker Ashley Edenborough's nickname is 'stretch' - and that's literally he did when firing Swindon Supermarine into the second round of the FA Trophy last night.
Edenborough latched onto a flick-on by Alan Griffin in the 80th minute to shoot past the Eastbourne goalkeeper and spark huge celebrations at the final whistle.
"We were magnificent tonight and completely deserved it," a delighted Mark Collier told SwindonWebTV.
"Beating a club in the Blue Square premier is a big win for a club of this size."
Supermarine's reward is an added £5,000 prize money and an away clash at Uxbridge in the second round.
Supermarine up for the big clash
"We're ready" says Collier ahead of tonight's FA Trophy first round
A bumper crowd is expected tonight at Hunts Copse for what has been described as 'the biggest game in Supermarine's history'.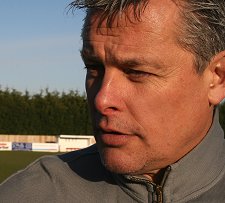 Big incentive:
Mark Collier
Mark Collier's side take on the Blue Square Premier's Eastbourne Borough at 7.45pm in the first round of the FA Trophy - with a £5,000 prize and an away day to Uxbridge up for grabs to the winners.
Supermarine are currently in a rich vein of form as one of the frontrunners in the Southern League, and Collier believes they'll never be better prepared to take on their higher league opponents.
"We're ready for them and the player's know it's a big test for us," Collier told SwindonWebTV today.
"And the financial reward is huge. That's a big incentive for this club to do well."
Money aside, Collier clearly sees the game as perhaps the biggest in Supermarine's history, and knows his players must be at their best to get a result.
"It's massive, there's no doubt about that. If we play well and we get a big crowd to cheer us on we can definitely do it.
"Everthing is geared towards us getting a result tonight. And going forward in this competition.
"It's where this club wants to go."
Big Game Build-Up
Collier pleased with preparations as Supermarine players are told: 'Enjoy it!' - WATCH SWTV INTERVIEWS...