Date added: 19 December 2008
Swindon mourns Marines
Latest Afgan casualties are repatriated through Wootton Bassett
Paying tribute again today, the people of Wootton Bassett lined the high street in honour of the latest victims of the Afgan conflict.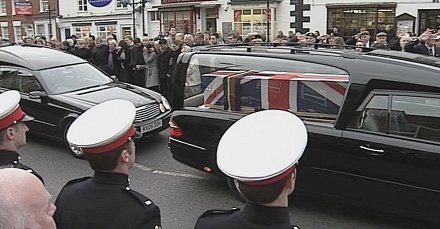 Marines pay tribute to their fellow soldiers

Five marines from 42 Commando based in Arbroath were killed last week, the youngest being Corporal Marc Birch, who was just 26-years-old.

Their coffins, draped in Union Jacks, were driven past those who gathered to pay their respects as the courtege made its way from nearby RAF Lyneham to the John Radcliffe hospital in Oxford.

An event that unfortunately will be repeated again this coming Monday 22nd December, when the latest casualty Stuart Nash, from the 1st Battalion the Rifles will also be flown home and repatriated.
Bravery Recognised
Proud evening as Swindon soldiers are awarded Operational Service Medals for Afganistan Tour - WATCH VIDEO

12 March 2014

Radnor Street Remembrance
Swindon honours its war graves at much-neglected cemetry - GALLERY + PICS FROM OTHER REMEMBRANCE DAY CEREMONIES

11 November 2012

Strictly Poppies
Come Dancing stars perform at the opening of Remembrance Field at Lydiard Park - GALLERY

09 November 2012