Date added: 30 December 2008
Last repatriation of 2008
Wootton Bassett falls silent for Christmas casualties
The people of Wootton Bassett gathered for the last time in 2008 to pay their respects to two Royal Marines killed in Afganistan just before Christmas.
The bodies of Corporal Robert Deering, 33, and Lance Corporal Benjamin Whatley, 20, were flown to RAF Lyneham and then driven past over 200 people paying tribute on their way to the John Ratcliffe hospital in Oxford.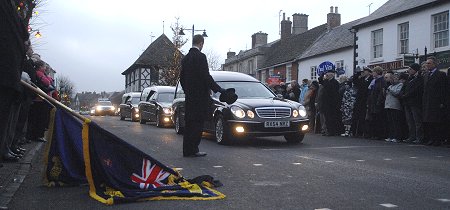 Wootton Bassett high st today
L/Cpl Whatley from King's Lynn, in Norfolk, served with 42 Commando, and died on Christmas Eve from enemy fire while on a mission in the Nad-e-Ali district near Lashkar Gah in Helmand province.
Cpl Deering was killed in an explosion as he approached the wreckage of an armoured vehicle that had been blown up in Lashkar Gah, Helmand Province, on December 21.

Wootton Bassett pays tribute - 30/12/2008