Date added: 04 November 2008
Doctor Piper?
Swindon star could be the next Time Lord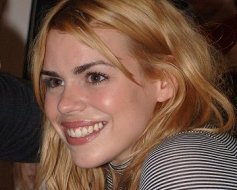 Could Billie Piper be in line to play
the next Time Lord?
With the announcment last week that David Tennant will be stepping down as the latest Doctor - the role is up for grabs.
And rumour has it our Swindon girl Billie Piper could be a surprise candidate.
When asked in a BBC interview if his former assistant could be his replacement, he said, 'Why not?'.
"It's a role that any actor could bring something valid to because it can be anything and it's a sort of a blank canvas every time," David said.
"It's not like you're casting Tarzan where you've got someone who looks good in a loin cloth."
So, with the position of Time Lord open for all - let's hope the 11th Doctor is our star from Swindon.