Date added: 11 November 2008
Swindon falls silent
Armistice Day marked at Cenotaph and Wharf Green


Swindon town centre was brought to a virtual stand still this morning to commemorate the 90th anniversary of the end of the Great War.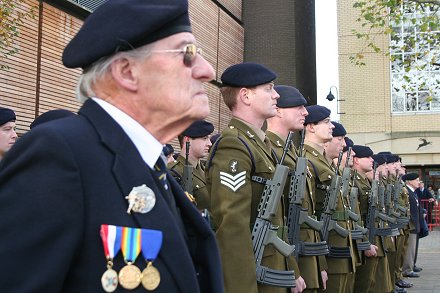 serviceman from across the generations stand silent to mark the 90th anniversary of the end of World War One

A two minute silence was held at the Cenotaph in Regent Street, and for the first time in Wharf Green, where hundreds of shoppers, workers and passers by of all ages joined war veterans and current servicemen in paying their respects.

An emotional day for all those who gathered to remember past friends and relatives who have died in conflicts in the last 90 years.

One onlooker summed up the thoughts of many…
"I always make a special effort to stop for the two minute silence," commented shopper Adam Ridley, "my grandfather served in World War Two and it's crucial we remember what they did for the country."
Remembrance Day 2008 gallery

Remembrance Day 2008 - 11/11/2008
The Christmas Truce
You've probably seen the advert - but Captain Mervyn Richardson from Purton was really there...

15 November 2014

Marking The Start Of WW1
100 YEAR ANNIVERSARY: Schoolchildren gather in Wharf Green before 28 June - the day that sparked the Great War...

26 June 2014

Bravery Recognised
Proud evening as Swindon soldiers are awarded Operational Service Medals for Afganistan Tour - WATCH VIDEO

12 March 2014

Field of Remembrance
Lydiard Park hosts the Royal British Legion's tribute to our brave Serviceman & women - 08-17 NOV

Radnor Street Remembrance
Swindon honours its war graves at much-neglected cemetry - GALLERY + PICS FROM OTHER REMEMBRANCE DAY CEREMONIES

11 November 2012

Strictly Poppies
Come Dancing stars perform at the opening of Remembrance Field at Lydiard Park - GALLERY

09 November 2012

A day to remember
Services held across the town for Remembrance Sunday...

12 November 2007

Swindon and World War One
Lest We Forget 101 Years On: our 4-part chronicle of the role Swindon people played in the Great War #therebutnotthere