Date added: 13 November 2008
Coate Water under threat?
No! Council leader Rod Bluh tells SwindonWebTV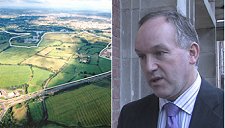 we interview the leader of
Swindon Borough Council, Rod Bluh
Council leader Rod Bluh has reiterated the council's objections to build 1,500 homes on land near Coate Water.
"We will do everything we can to make sure any development, irrespective of how popular or otherwise it may be, if it ever happens on that site does not effect Coate Water detrimentally," he told SwindonWebTV this morning.
His comments coming two days after a full planning meeting rejected a proposal by the Swindon Gateway Partnership to develop land adjacent to the park near Commonhead.
The decision will now be referred to the Secretary of State where the plan will be considered at a public inquiry on the 10th February 2009.
A petition opposing any building on the site has already been signed by over 50,000 people.
Watch the full interview in our video above.