Date added: 19 November 2008
Dame Kelly packs a punch
Olympic hero champions sport in Swindon schools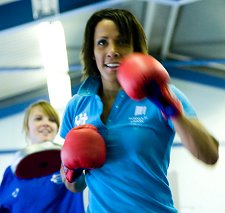 box aerobics with pupils at
Greendown School during her
Dame Kelly Holmes swapped her running shoes for boxing gloves and other activities today during a visit to Greendown School.
The double Olympic gold medallist was in Swindon to promote the positives of sport in education as part of a Government scheme to encourage all school children to participate it at least 5 hours of physical activity every week – boxing aerobics included.
During her 2 hour stay Kelly proudly gave pupils the opportunity to see and feel the Olympic medals she won in Athens 4 years ago as well as joining in and encouraging those taking part.
Dame Kelly expressed how impressed she was with the facilities at Greendown and hoped her appearance would inspire children of all ages to get more involved in sport – and, most importantly, enjoy it.
The former runner keen also to emphasis the importance of good diet in maintaining a healthy lifestyle – especially with kids.
Dame Kelly Holmes in Swindon Gallery

Dame Kelly Holmes in Swindon - 19/11/2008
Hello, Sir!
Why Olympic legend Sir Steve Redgrave was getting sporty at Haydonleigh school - SWTV...

The Comeback King
Silver medallist sailor gives inspiring talk to Swindon schoolchildren...