Date added: 12 November 2008
Recognition for all
Volunteers are rewarded for their services to Swindon St John Ambulance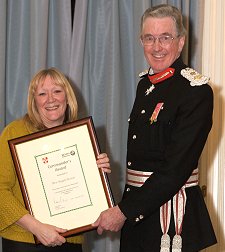 Angela Rosier with the Lord
Lieutenant of Wiltshire
Twelve Swindon volunteers were recognised for all their services to St John Ambulance at an award ceremony last week.
The Lord Lieutenant of Wiltshire presented the awards to a number of servicemen and women who have dedicated their time to the service in recent years.
Throughout the night a number of volunteers were recognised for their hard-work with many recounting stories of their life-saving experiences.
In particular two volunteers, Ray Hinson and Angela Rosier, were presented with Commanderís Awards after saving the lives of two casualties (both heart attack victims) on separate occasions in Swindon this year.