Date added: 01 October 2008
Mayor gives charities unexpected boost
Extra cheques for Swindon Cares and TWIGs as final figure for former Mayor's charities comes to £26,011.74
Michael Barnes, Swindon Mayor from May 2007–May 2008, handed over the final cheques to his chosen charities, TWIGS and Swindon Cares, today, after raising an astounding £26,011.74 during his year in office.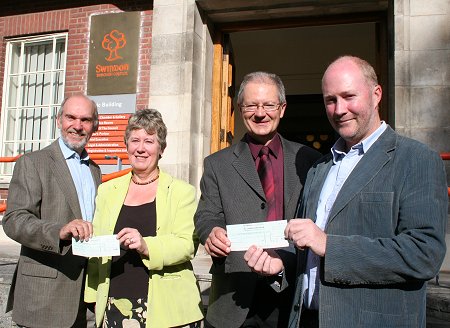 former mayor Michael Barnes (second right) alongside the Mayoress present cheques to Alan Holland of TWIGS (r)
and Bill Fishlock of Swindon Cares (l)
Speaking at the Mayor's Parlour at the Civic Offices where the presentation took place, Mr Barnes said: "It was a tremendous year."
"The generosity of the people of Swindon in helping me reach this amazing sum reflects the high regard in which TWIGs and the Swindon Cares charities, Swindon Samaritans, Broadgreen Breakfast Club and Swindon MS Therapy centre, are held and I wish them every success in their future activities."
Although now retired from his position as a Councillor, Mr Barnes added that he is now looking forward to dedicating more time to charity work as a committe member of Swindon Cares in 2009.
"I was delighted to be invited to play a part in raising even more money for charity, and I'm really looking forward to next year's events," he said.