Date added: 07 October 2008
Swindon's ten million euro man
Howell all set to pass milestone in career earnings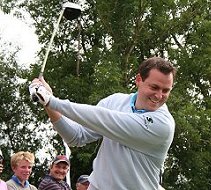 Swinging all the way to the bank:
Swindon golf star David Howell is all set to take his career earnings past the incredible 10 million euros mark in the next few weeks - but right now it's not the money he's interested in.
Speaking to SwindonWeb today, Howell spoke of his hunger to get back to form and play well again, with the money side of the things taking care of themselves.
"Before you told me, I had no idea I'd earned that much," he said, after we informed him he was 17th in the all-time money winners on the European Tour with €9,863,072 (just shy of £8 million pounds).
"I've been very, very lucky. But getting back to my best is what I'm concentrating on right now, practicing hard and trying to find some form."
Booked to now play in three more tournaments on the European Tour this month, Howell will then aim for a season-ending high at the Volvo Masters starting on 30 October.
"Of course, I'd like to do well there. It's one of the biggest tournaments of the year and a good performance would give me a lot of confidence going in the winter.
"I haven't finalised my schedule yet, but I'll be looking to get some sun and work on my game."
Improvement that could lead to Swindon's Ryder Cup hero considerably adding to his wealth next year, with news that the European Tour is changing its name for 2009 - to 'Race for Dubai'.
A season of tournaments that will include 53 venues and 26 destinations before reaching a thrilling finale with the top 60 players qualifying for the £11.5 million pound Dubai World Championship at the Jumeirah Golf Estates, Dubai, UAE in November.
"I'm personally really looking forward to it," Howell, who claimed his first European Tour victory in Dubai in 1998, added:
"Dubai always brings back good memories for me, so the World Championship is certainly something I won't be looking to miss out on."
David Howell Interview
SWTV speaks to the Swindon golf star ahead of this week's Ryder Cup - WATCH VIDEO

21 September 2012

What a shot!!!
Gong-ho David Howell enjoys the luck of the Irish in golf challenge - WATCH VIDEO...

16 August 2010