Date added: 08 October 2008
Sponsor us!
Liz, Mel and Kirsty need your help!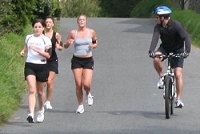 SwindonWeb Girls in
training for Sunday
The Swindon Half-Marathon is just days away - and Liz, Mel and Kirsty from SwindonWeb are ready to run!
And we're asking you to now help us raise as much money as we can.
Yes folks, we need you to dig deep to fish out the pennies for what we think is a fantastic cause - the Intensive Care Unit at Bristol Royal Infirmary.
A place that saved our Liz's life earlier this year when blondie was rushed there after undergoing a failed nine-hour operation to remove a liver tumour.
It costs £1,500 per day to be in Intensive Care so we know the money raised will certainly be put to good use.

And that's why we're running the Swindon Half-Marathon this year.
Just our way of saying thanks.
Please click on the 'Just Giving' link below
to donate online or alternatively please send us a cheque made out to:

The SwindonWeb Girls
The Bentley Centre
Shrivenham Road
Swindon
SN1 2SH

We really will be grateful for anything you can offer! And if you're at a loose end on Sunday, why not pop down to cheer us on.
Many, many thanks for reading this and good luck if you're taking part in the race.