Date added: 09 October 2008
Taste of success!
Jesmonds of Highworth celebrate top award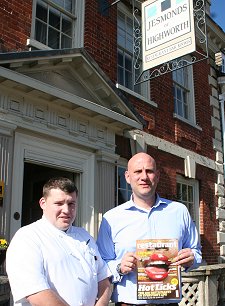 Putting Swindon on the map:
Sven Saint-Calbre (right),
with head chef William Guthrie
A Swindon restaurant has been recognised as one of the UK's top 100 eateries.
Jesmonds of Highworth received
the accolade at the 2008 Restaurant Magazine awards held in London earlier this month.
The prestigious award puts them 89th in the UK - and General Manager Sven Saint-Calbre believes it's innovation, passion and commitment that has helped boost Jesmonds in to the limelight.
He said: "I am delighted for all my team at Jesmonds. To be recognised by the leading hospitality magazine and its independent judges is a great honour.
"We are located in one of the prettiest parts of the country, in an area rarely recognised for its food excellence, but this award changes all that.
"We really do pride ourselves on providing the highest quality of service to our customers and to be recognised in this way is just perfect!"
The accolade follows a 5 Gold star award from the AA, which puts Jesmonds in the top 10% of UK accomodation providers.
"We love what we do and our customers do too, and now it's official. We are so proud!" Sven added.