Date added: 09 October 2008
Half-Marathon week five: the final session
The importance of the cool down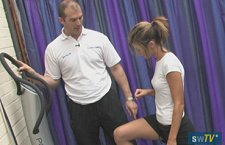 Jason Scott shows us the
importance of cooling down
after the marathon
It's been a tough few months for the SwindonWeb girls - but it's time for all our hard training to finally pay off.
So, for our final session with personal trainer Jason Scott, we look at the importance of the cool down after the race.
"The course is going to be gruelling on your whole body, so it's vital to do a cool down," commented Jason.
"Your muscles are going to be tight and for you to recover quickly you need to think about cooling down and stretching each muscle group out properly."
"Look at your quads and your calf muscles after those hills – and you may even find your back aches – so make sure you hold each stretch for at least 12 seconds."
So with the big race this Sunday good luck if you're racing and we'll see you on the start line!