Date added: 09 October 2008
Thinking Pink!
Swindon pupils do their bit for breast cancer charities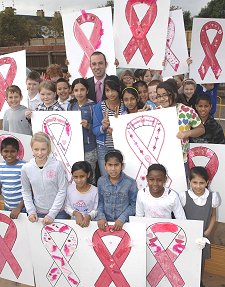 pupils with their posters
Pupils at a Swindon primary school have been helping to raise awareness of breast cancer.

Children aged 7 to 11 at Drove Primary School have decorated giant pink ribbon posters which will be displayed at Swindon Designer Outlet during October.
And the centre's marketing manager Nick Williams will be awarding a prize for the best one.

Nick said: "The pupils have done a fantastic job at making these posters as bright and eye-catching as possible and we're looking forward to showing off their hard work at the centre."

Swindon Designer Outlet have teamed up with Cancer Research UK to officially launch Breast Cancer Awareness Month in the South West, with volunteers from the charity on hand this Saturday 11 October to offer advice and information to visitors.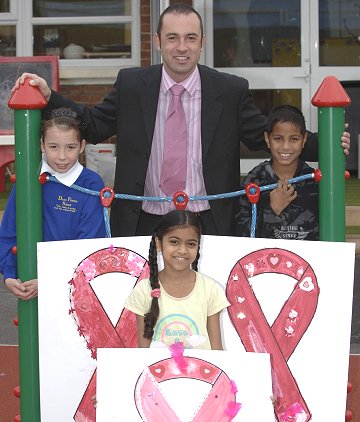 Swindon Designer Outlet's Nick Williams
with
Drove Primary pupils Emilia Hutchinson,
Joslyn Marques, and Allrich Vas
"We have lots of activities planned throughout October to help raise money for local breast cancer charities as well as raising awareness of the issues surrounding the illness," Nick added.
Be a star!
Outlet Centre urges Swindonians to help terminally-ill children...

25 January 2008