Date added: 10 October 2008
Gordon Brown feels the heat in Swindon
PM launches new energy initiative at STEAM museum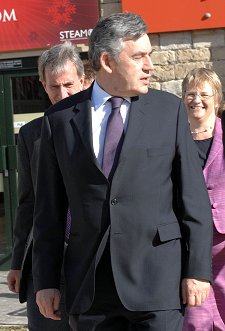 Prime Minister Gordon Brown at
STEAM this morning alongside
Swindon MPs Michael Wills
Prime Minister Gordon Brown ended a hectic week with a visit to Swindon today - just as the UK stock market crashed again.
The PM spent an hour at the STEAM museum to launch a new initiative from Swindon-based energy giant npower called 'Health Through Warmth', which aims to improve the quality of life, warmth and comfort levels of vulnerable people.
The PM was joined by North Swindon MP Michael Wills and South Swindon MP Anne Snelgrove.
Reassuring everyone he still had the on-going economic problems at the forefront of his mind, however, the PM said:
"I've been here today talking heating bills and mortgages with people, and rest assured we're doing everything in our power to stabilise the current financial situation."
The UK stock market eventually finished 381 points down - the third worst fall in its history.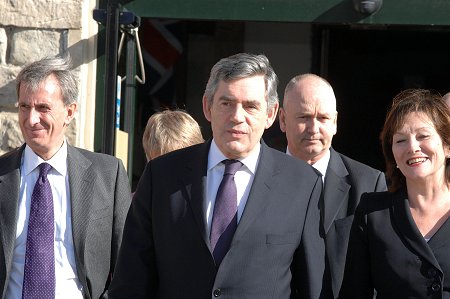 Election Time 2010
Final day - still unsure? Take a final look at our guide to see videos, history and more...

Cameron in Swindon
Conservative leader chooses Coate pub garden to launch 'grey manifesto'...

18 April 2010

Andrew Lansley
Conservative shadow secretary of state for health visits Maple Court in Swindon...

14 April 2010

Theresa Villiers
Shadow secretary of state for transport visits MAN in Swindon...

07 April 2010

General Election Time
They say whichever party wins in Swindon, wins the general election - we look back on results since 1969...

Who is Michael Wills?
A simple question, we thought? Surely everyone knows he's our North Swindon Labour MP?....