Date added: 16 October 2008
Found safe and well!
Lost Westies are back in Swindon after five months away
Remember Buddy and Holly?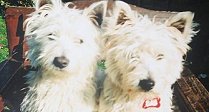 Swindon Westies Buddy & Holly
The lost West Highland Terriers that went missing from their Haydon Wick home back in June.
Well, they've been found! Still together as brother and sister. And seemingly none the worse for their ordeal.
The pair were picked up by Salisbury Police after a tip-off that a traveller was selling two dogs matching their description.
And after being seized and taken to a vet for inspection, a micro-chip in each dog identified them as Buddy and Holly.
The Holmes family, who adopted the pair in January, are said to be 'over the moon' at the news (see link below for our video appeal).
The dogs went missing after digging under the garden fence one afternoon, and despite appeals for their whereabouts, nothing was heard until earlier this week.
It is not known whether any arrests have been made.
Stanton Park
Our boy Milo's off for a walk around Swindon's haven for wildlife...