Date added: 23 October 2008
Swindon art in the picture
Students draw attention to Swindon museum and art gallery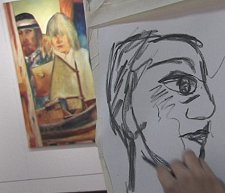 the Big Draw at Swindon Museum
An event in Old Town today definitely put the Swindon museum and art gallery in the picture.
Students from Swindon college took part in The Big Draw, a UK-wide initiative aimed at everyone to explore drawing in all its dimensions.
The Swindon museum and art gallery on Bath Road seen as the perfect venue for the project as students drew inspiration from the major British artists on display there.
"It's a pretty amazing place actually," said Kim Perry, studying a National Diploma in Art and Design, "it's got works by Ben Nicholson, Henry Moore and loads of others. And, to be honest, most of us had no idea it was here!"
"The day's been well worth it. We've all really enjoyed it."
Drawing activities included encouraging passers-by to take part in some spontaneous sketching, as well the students themselves building up an artwork montage outside the museum, plus decorating a white cube inside it.
"There is so much to discover here at the museum, I'm delighted we're hosting the Big Draw," added museum manager Barbara Dixon.
"There's been a real buzz about the place all day."
The museum and art gallery is currently hosting an exhibition co-curated by James Castle entitled Echoes: myths, meaning and imagination, which unites sculpture with a selection of paintings from the Swindon collection.
Admission is free.
Full details on the Swindon museum and art gallery are available via the link below.
Paint means prizes
Inkspot craft store rewards Swindon artistic talent - see gallery...

25 October 2008

Hats Off!
Swindon College students celebrate their graduation...