Date added: 24 October 2008
Petrol prices down in Swindon
But be quick - cheaper motoring won't being lasting long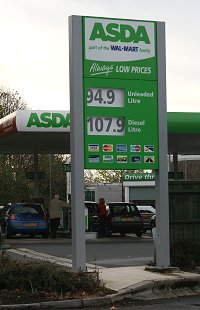 West Swindon
Shopping Centre
Prices at the pumps in Swindon have dropped to 94.9p in some places for a litre of unleaded - the cheapest it's been in months.
But if news today on oil production is correct, the cost to fill up your car will soon be going back up again.
Asda, who have two forecourts in Swindon - one at the West Swindon Shopping Centre - have guaranteed their prices for at least the next ten days.
Sainburys at Stratton have fuel at a similiar discount, as do Tescos.
The last time petrol was at these prices was almost exactly a year ago. In June, there was semi-crisis in Swindon when a strike by delivery drivers meant some garages in the area ran dry of unleaded and diesel.
Panic at the pumps?
Not anymore. Tanker driver deal means deliveries are imminent...

13 June 2008