Date added: 26 October 2008
George Clooney at it in Swindon?
Maybe.... just maybe, according to HEAT magazine
It's not often Swindon pops up in a sentence describing film heartthrob George Clooney.
But in HEAT magazine this week, they joked (wish, more like) there's just the slightest, faintest, glimmer of a possibility Mr Clooney may have got just a little bit frisky in Swindon in 1983.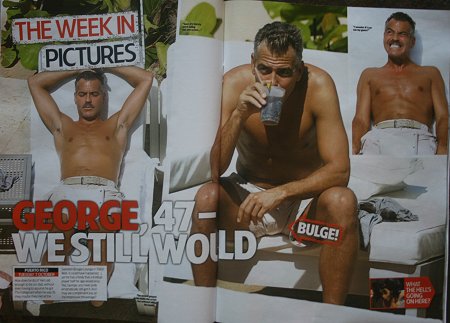 George Clooney, as featured in HEAT magazine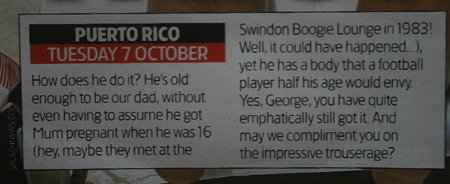 Their double-page photo spread of the 47-year-old soaking up the sun in Puerto Rico including the incredible suggestion that although:
'... he's old enough to be our dad, without even having to assume he got Mum pregnant when he was 16 (hey, maybe they met at the Swindon Boogie Lounge in 1983! Well it could have happened...)
....George, you have quite emphatically still got it '
The girls in our office definitely think he has.
And how nice of HEAT to put Swindon and the actor often decribed as 'the world's sexiest man' together, we think.
The big question being: just where was the Swindon Boogie Lounge?(sounds more 70s than 80s to us) and...
.... ladies, well.... would you?
The HEAT magazine featuring George Clooney and Swindon is now available in a newsagents near you.
Two Big Fat Mentions!
Primetime Swindon: first the BRITS then My Big Fat Gypsy Wedding...

16 February 2011

Jack Nicholson
Hollywood star puckers up to SwindonWeb!...

23 January 2008